Catching Up
This is the time of year when I rummage for cardboard boxes, clothes pegs and bubblewrap in order to make a temporary cold frame on the balcony to raise some cucumber and butternut squash seedlings for the allotment. The list was longer once upon a time but we've given up growing sweetcorn as the birds and other wild life, foxes perhaps, always got there before we did and my skills and patience only stretch to large seeds producing rich rewards. However, the balcony takes precedence and it's only when a few replacement plants have been planted, the detritus of Winter has been cleared away and Summer is peeping through and I have, if not a plan then certainly a few ideas for the year ahead, that I contemplate nurturing some seeds. Then, once it is consistently warm enough to attract insects and some bird life to our green oasis (a Great Tit arrived early this morning but left before I could take it's picture as it enjoyed some tasty insect life) I judge it is time to dust off my 'Blue Peter' skills and raise some seeds.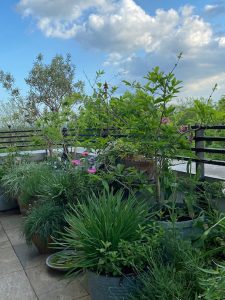 Friends tell me that it's been a very bad Winter for balcony and other high rise spots for overwintering pots. Mine did look very dismal for several weeks earlier in the year but that seems to be a thing of the past, and my roses and pelargoniums, as well as the smaller tulbaghia, which were in flower up to the end of January, are now ready to have another go. So I feel particularly lucky as the balcony is looking very lush with several of the medium sized shrubs, including the roses and clematis, showing indications of being wonderfully prolific this year and all the very small pots (that irritated those who like more space underfoot) a thing of the past, or at least re-distributed to some of the older, multi-occupancy containers.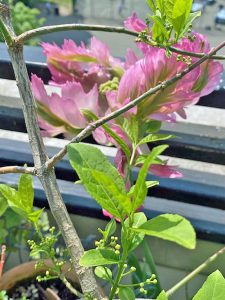 Living in a converted Edwardian school, which in the language of estate agents has been divided up for contemporary living, involves accommodating to a number of quirky features, particularly in the communal areas, including the inter-connected balconies. This is very useful if you have forgotten or lost your front door key but have left your balcony door open. For a while we felt we were living in a corridor as neighbours and their guests came through our flat and past the plants obstructing the narrow pathway between our two properties in order to get to their balcony, before retreating indoors in varying states of embarassment and awkwardness. The plants (a well established olive and an elderly pittosporum tenuifolium with dark bronze leaves) didn't mind at all but there was more disgruntlement all round when an unfortunate, rather large, worker for one of the 'superfast' fibre broadband suppliers took the external route to reach us in order to position a new cable for a property three floors below. A knock on the door would have been easier all round.
Meanwhile as the building has lawn on all sides, alongside car parking, bin areas and various exits and entrances, the unmown grass (it being no-mow May) is a delight abounding with flowers, insects and other visual delights.
In the early days of our allotment years in the West Country, thanks to a friend who had introduced us, we shared a plot with a very enthusiastic Winter digger. I chipped in from time to time with ideas which didn't go down particularly well with either of the more traditional gardeners whose plot it really was. The elder tree above our heads, with its abundant flower bearing branches, was considered a nuisance since its branches tumbled down and made reaching the shed a real challenge, and I didn't have the confidence to turn the flowers into cordial, lacking in those far-flung years access to Google and I'm sure any number of suggestions to turn the flowers into nectar if not of the gods then certainly a drink to be enjoyed by friends and family. I do have a close friend who in those distant days did make delicious elderflower cordial so why didn't I ask her for advice I wonder, although on reflection it might have been because I was rather surprised by the amount of sugar involved.
I also failed to convince my partner in life, if not on the allotment, that companion planting should be embraced to cut down on chemicals and keep black-fly at bay. Actually the argument about chemicals was rather spurious as it was a law-abiding chemical free allotment site but I didn't manage to make the case for planting nasturtiums to attract the black-fly away from the broadbeans either – I couldn't find an answer to his response along the lines that the nasturtiums were probably actually attracting greater numbers of black-fly to the plot. In the end as the nasturtiums had spread beyond their allotted territory, and even I could see they had become a nuisance, both I and the nasturtiums withdrew.
However, I did succeed in planting what might now be called a wildflower border (or patch) which was a real, if somewhat unrecognised success, the happy outcome being an abundance of nigella (love in the mist) dominating the scene. The widespread roots of the elder meant the ground underneath and around was unsuitable for growing vegetables but the irregular surface happily embraced the nigella and other seeds and because of the slightly sloping site, the sun's rays managed to penetrate any leafy twigs that survived after the heavy pruning necessary to ensure access to the shed itself.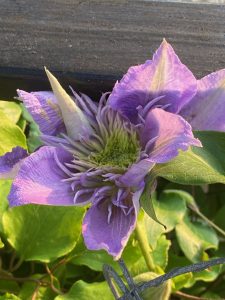 But times change and we no longer grow broadbeans as the success rate has been so low, and instead of the emphasis on digging, an interest in no-dig growing has reached the planning and discussion stage for this year's planting programme, if not the allotment plot itself. To this end I am bagging up all my spent compost from the pots on the balcony that I want to re-plant and they are making the journey a few miles south to support the no-dig venture.
Moss Gardens
I have no idea where and when the idea of giving my mother a moss garden at Easter came from. Needless to say my efforts bore very little relationship in scale, meaning or design to the famed moss gardens of Japan.
Somewhat incongruously, and strangely evocative, Moss Garden is also the title of one of David Bowie's instrumental tracks on Side 2 of Heroes (1977).  'Strange and serene' it's available to listen to on YouTube and may be familiar to fans of the multi-faceted singer. I heard it for the first time four days ago, thanks to a Google search which segwayed from moss gardens to Bowie playing the koto, a Japanese string instrument. I recommend a listen – you might be surprised.

Step 1 involved asking my mother for a suitable plate (this was all on a very small scale) and she would produce a medium sized enamel plate, actually I think the only sized enamel plate we had, which was generally used for the cat's food at this stage in the evolution of our family's life. Of course this request, met as it was without any detailed questioning by my mother rather took away the element of surprise as she knew the plate was heading outside.
Step 2 was finding the essential moss. From memory this was not a problem as we had various outbuildings with moss aplenty on the somewhat dilapidated roof tiles and I think I just picked the miniature humps up from the ground below, perhaps dislodged by birds or less well adhered to the roof as warmer weather tended to dry out the moss.
Step 3 involved finding pretty stones to create what has now somewhat ubiquitously come to be known as the hard landscape. We had a gravel drive, small brick walls with plenty of plants filling the gaps between the larger stones and informal brick or crazy paving paths going in various directions and in varying stages of repair. The plate was only about 9ins (or 23cms for younger readers) in diameter so sourcing enough pretty small stones wasn't difficult.
Next came the pretty decorative contributions – several grape hyacinth stems picked very carefully so that no-one would notice I'd robbed the prolific patches of deep blue, and primroses with much more delicate stems. These were all threaded in and around the mounds of moss, and I think the occasional small chocolate egg, saved from my Easter bounty, was included. I should explain at this point that this was something I planned for and thought about for a while but didn't actually assemble until I could roam around the garden after lunch.
And on these sunny Easter Sunday afternoons, for perhaps two or three years, my creation complete, I would then search for my mother carefully carrying my offering. It's afterlife remains a bit of a mystery – I imagine that having watered it a bit, before putting the plate on a cool windowsill in the scullery, it wasn't long before it was time to return the plate to its customary use. The moss garden never made it beyond the kitchen but as the kitchen was largely my mother's domain (when she wasn't curled up on the sitting room floor, fully absorbed, with her book propped up on a comfy chair, rather than the other way round) I think I was pleased to see it from time to time as I went in and out of the garden.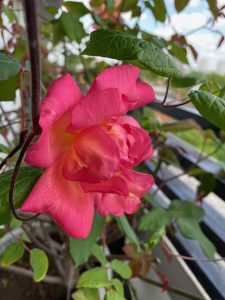 Looking Ahead
With signs of promise all around I'm wondering how well my pomegranate will do although I feel somewhat humbled by someone I know who's grown one from seed (bought with other fruit at her local green-grocer's last year) which is already nearly as tall as mine. I'm also reconciled to life without an E Nicolii, a small variety of eucalyptus that grows happily in pots for a few years before either outgrowing its surroundings or failing to fulfil our requirement for all the larger plants to contribute to the wind break above the perimeter wall, helping to ensure that a cup of coffee or glass of wine can be happily enjoyed across the threshold. As a particularly spindly specimen, without a compensating ornamental leafy display above, it had to go – always sad but not completely unwelcome as the balcony is already rather crowded and most plants will put on more growth over the next few months.
I'm also hoping to visit the Sky Garden sometime soon with the help of the District Line which offers a door to door service – it's located over three storeys, upwards from the 35th floor of the 'Walkie Talkie' in Fenchurch Street, London, free to garden lovers, with spectacular views, gardens lush with South African and Mediterranean plants and an open air terrace – it's been recommended by a close family member and sounds irresistable. I might be able to pick up planting tips to help with wind defences at height although as it towers 30 storeys above my high rise plot (I expect with a budget to match) the challenges may be rather different.