At the start of the First World War my mother's family moved from Hull to Scarborough, then a small coastal town in the North Riding of Yorkshire, to avoid the anticipated German bombardments likely to be targeted on the large fishing ports of Hull, where the family business was based, and Grimsby further South. However, the town did not escape; in fact Scarborough was attacked on December 16th, 1914, resulting in 137 people dying, and many more seriously injured, as well as considerable damage to property. Later in the war there were also a number of destructive Zeppelin raids on Hull but with significantly less loss of life.
It's hard to predict the future.
I tend to over estimate the number of plants I can find space for as well as how many pots I can maintain in more or less good enough condition. Later in the year I often come to regret the casualties – over crowded containers, plants hidden from view and new favourites struggling to establish themselves. I am resolved to do better.

Gardens are Made by Sitting in the Shade to misquote

Confined indoors at the start of the year, except for essential shopping and exercise, from time to time I took recourse to one of my favourite pastimes, namely ordering plants, while paying heed to my self-imposed injunction. Anticipating the growing season is always a pleasure and was a particularly welcome distraction from the permitted 'Lockdown' exercise which could all too easily remind me of the tedium of compulsory walks at school. These followed more or less the same route every Sunday afternoon so were never a great favourite of mine. Even worse were route marches led by my father up and down Welsh Mountains in the middle of August, but with mist never very far away.
Fortunately the climb up ninety-five stairs from front door to flat door has been available come rain or shine throughout the Lockdown and beyond, and if weary can include a pause to take in the distant sights across the Thames with the familiar profiles of the BT Tower, the 'Gherkin', 'Shard' and Canary Wharf amongst the iconic buildings in view.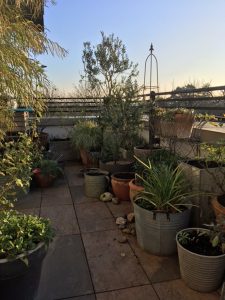 However, as the days began to lengthen, and after a bit of pottering aloft – watering one or two powder-dry pots in the rain shadow, pulling up one or two unidentifiable twiggy remnants from last Summer and moving a couple of containers to better display their wares, we surprisingly found ourselves from time to time sitting on the balcony, drinking tea and basking in wintry sunshine. Tips of tulips just visible (later this year than sometimes, but maybe I planted later varieties) the rosemary coming into full flower and bizarrely the mallow pushing out new buds until it finally exhausted itself to be replaced by the hellebores offering their beautiful flower heads to passing insects.
And again today, a few weeks on, the sun is up and yet more leaf buds and plants have eagerly responding by coming back into life after the Winter dormancy. The eagerness may, of course, be problematic as we are due for another battering with predicted harsh chill winds and heavy rain heading towards us over the next forty eight hours, but it is undeniably heartening to see the trees beginning to green up and to enjoy the early blossom all around.
All of which reminds me once again that keeping a note-book (as distinct from buying a notebook of which I have many) for planting details – varieties, timings, successes and failures would be invaluable, but like the diaries of my youth never gets beyond the first few pages. I periodically draw up planting plans with carefully sketched out pots and containers, borrowed felt-tips colouring in the dominant plants and the various gaps ready for new ideas. Unfortunately the gaps are always smaller than they appear on paper and my eagerly anticipated projects are often confronted with the disappointing realities of limited space and inclement weather.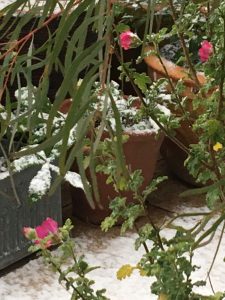 Meanwhile as Winter is unsurprisingly returning briefly all gardening ambitions are once again confined to the imagination. This just as I was getting back into the swing of heaving pots, feeding (probably prematurely) and watering, as well as cutting back or jettisoning the plant/pot combinations that have run their course, or enjoying a chance observation, a moment when something unexpected catches my eye or needs attention. All of which brings rich rewards, often surprisingly disproportionate to the task in hand.
One such moment came along this morning when uncertainties of various sorts – would the planned recovery vehicle arrive as expected and take our disappointingly malfunctioning new electric car to the garage (it didn't), what to do about reserving tables when eating out is once again allowed, how to frame a difficult e-mail (still not sure) were somewhat pre-occupying, and certainly a distraction from the wider world and all its concerns.
Walking past the door leading to one of the smaller outdoor spaces I spotted a limp strand of trailing ivy dangling from one of the small pots forming a collection on the plant table outside. A moment's work to break off the damaged greenery, twist the pot round, check the neighbouring pots and pop back indoors – but my frame of mind had in those instants changed to a more thoughtful, creative state. How so? Physiologically, psychologically much to wonder about and understand. And much is being written at the moment about the natural world and it's impact on, and interaction with, our emotional life.
In a study cited in her book 'The Art of Rest' Claudia Hammond, broadcaster and presenter of  Radio 4's 'All in the Mind', https://claudiahammond.com/  writes of the the value of gardening and green spaces and mentions too the significance of micro-experiences, such as looking at photos of the natural world  for forty seconds or so, equivalent to my moment on the balcony, which may, or I would say often do, have an unexpected and enhancing impact.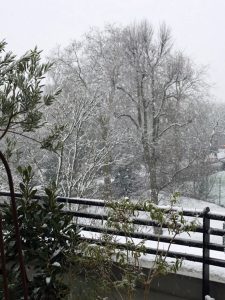 An Urban Treasure
The building is about twenty metres in height and exposed to the westerly winds. The roof garden consists of a larger (it's all relative) rectangular area of about thirteen square metres, which faces South South West, basking in any available sun and accessed through the main bedroom – a joy to look out at through all the seasons but inconveniently far away from the kitchen and the coffee maker.
There is also a more or less equivalent area made up of four much smaller planted areas outside the remaining doors and windows to the outside world. They face different aspects so are sheltered or exposed to the prevailing easterly or westerly winds, but all are life-enhancing, awkward extensions to the main balcony. The planting gap between the windows and the parapet wall is narrow (squeezing past to get from one dustbin sized container to another is challenging and involves clambering out of a window first) and the windows are wide, rather than tall, with sills at waist height.
It took me a while to realise that if you want all year round interest from the comfort of indoors the right combination of tall plants in tall containers works best, and if they spread a little happiness along the heavy duty railings all the better. With this in mind the easterly facing planting corridor has clematis, a variety of roses including an elderly rambler, a much more recently purchased standard rose not generally my preference but perfect when it comes to offering blooms at waist height and above, with the stem out of sight, and a china rose, rosa mutabilis, which really came into its own last Summer. These also co-habit with E Nicholii, a small eucalyptus with a lovely drooping habit and feathery leaves, so the overall effect is not unlike a miniature glaucous (a recently acquired adjective I don't have enough opportunities to use) weeping willow.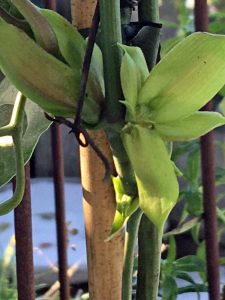 Also soon to be replaced salvias which didn't do well last year and will have to give way to another clematis, clematis a. 'Apple Blossom', evergreen this time, which offers scent and spreadability too and a mass of pale pink flowers in March/April – although I might have to wait a year or too for a really generous display.
I'm sure roses would always prefer to be in open ground, and they do need to be fed and watered attentively, but with the oldest at over 15 years old and the most recent bought last Autumn I'm strongly in favour of planting roses of all sorts in containers, even on a wind-swept terrace. In fact particularly in a wind-swept spot. They like the airiness, their roots can adapt surprisingly well to the cramped conditions, they flower prolifically and are disease free. Nothing smaller than a dustbin is recommended for housing roses by the venerated Irish gardener, Helen Dillon, but you can get away with offering less favourable accommodation if you have run out of space and can then compensate with regular attention.
The sheltered South facing area has archetypal silver leaved 'Mediterranean' plants including lavenders, cistus, rosemary and olives, which actually after a while seem to prefer the colder, exposed damp conditions on the main balcony.
However, the conditions in the fourth area are hard to define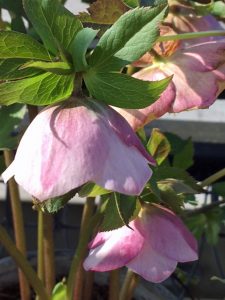 . South West facing but surrounded on three sides by the framework of the building and the parapet wall on the fourth, it is alternately in the rain shadow offered by the overhanging roof, in shade, in bright sunshine or facing the brunt of a Westerly gale depending on the precise trajectory of the incoming weather. Planting here has largely been a succession of failed experiments although unexpectedly the current combination of hellebores, ivies, and elderly lavenders seem to be flourishing. It's an area at the end of a corridor between bedrooms so only really seen in passing rather than claiming attention while I'm sitting, eating, musing or otherwise preoccupied.
After Thoughts
Many thanks for the e-mails and comments which add to my gardening knowledge and are often incorporated into my future planting plans: the sweet smelling box, sarcococca, that was suggested to me a couple of years ago, has been spectacular this year and encouraged by another reader I will plant a caryopteris x clandonensis 'Heavenly blue' in a large vacated pot and then prune heavily at the end of next Winter.
But very sadly no bumble bees yet – several queens attempted to come indoors during January, but very unusually no bumbles have been sighted since taking advantage of the occasional warm days to feast on the nectar and pollen provided by the rosemary flowers, now gone over.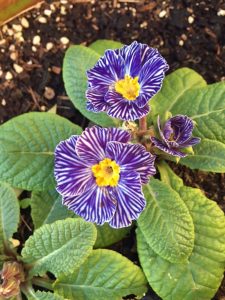 My first visit to the allotment this year led to a brief conversation with the ten year old family gardening enthusiast as he too was worried about the missing bumble bees, but news from a gardening friend in Yorkshire was reassuring – bumbles out and about in good numbers.

Meanwhile thanks to my sister in law I have a purple patch of primulas.